VM ZINC tin, Titan- zinc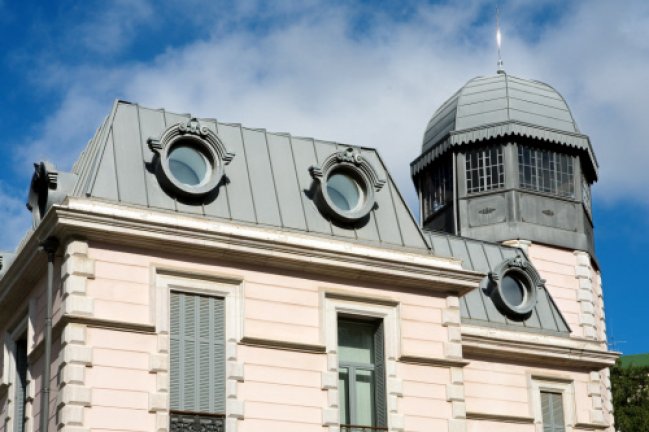 Cinkas- is a natural raw material, and is usually found in the layer of the earth's crust, perfectly suited for repeated use in agriculture and industry. Applicable central to sustainable development and environmental policy element.
Currently available:
1) Natural VMZINC, 2) QUARTZ_ZINC, 3) ANTHRA_ZINC, 4) PIGMENTO brown, 5) PIGMENTO green, 6) PIGMENTO red, 7) PIGMENTO blue.

Natural material
There are many reasons to choose VMZINC roof and facade cladding. Zinc is naturally resistant to corrosion, mechanical impact, and its maintenance - inexpensive. In addition, the flexibility and engraving applications, the diversity and the pleasant appearance of zinc selected innovators building projects, ranging from private homes and residential complexes to trade, public buildings and private projects.
Alloy having the best indicators
VMZINC is rolled zinc, copper and titanium alloy wich is characterized by the construction of optimal mechanical and physical properties, especially mechanical resistance and creep.
VMZINC composition - high quality zinc Z1 (99.995% purity, according to EN 1179 standard) and titanium and copper accessories, rolled zinc in accordance with the European standard EN 988.
This globally recognized standards are very stringent requirements for rolled zinc composition, its physical, mechanical and bulk properties.
Although VMZINC the branded products comply with all the requirements of standard EN 988, creating PREMIUMZINC quality system, we have significantly exceeded this standard. This system provides a higher than EN 988 certificate provides quality.
VMZINC physical properties:
Density 7.2 kg/dm ³
Thermal expansion coefficient 0,022 mm/m/° C
(parallel to the rolling direction)
Melting point 420 °C
Crystallization point 300 °C
Thermal conductivity 110 W/(mK)
Electrical conductivity 17 MS/m
The risk of sparking without sparkling
Magnetic properties Diamagnetic